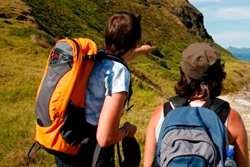 Niue is an outdoor enthusiast's paradise, with well-signposted and well-maintained tracks, and where visitors are pampered with amenities such as clean toilets and fresh water showers at nearly every trailhead.
There are sea tracks and walking trails galore on the island, and all tracks hold a very special surprise at the end – whether it be rain forest, jagged coral pinnacles, steep descents or spectacular caves, you will come across scenes that could feature in a movie set. Most can safely be explored on your own, or guides can be arranged for bike, cave, bush and reef tours through the Niue Tourism Visitor Information Centre in Alofi.
All fitness and adrenalin levels are catered for but, depending on the time of the year, hiking can get very tiring in the tropical heat, so make sure you have drinking water with you, and save some energy for the return trip. Good footwear is also recommended because of the sharp coral and roots on the ground.